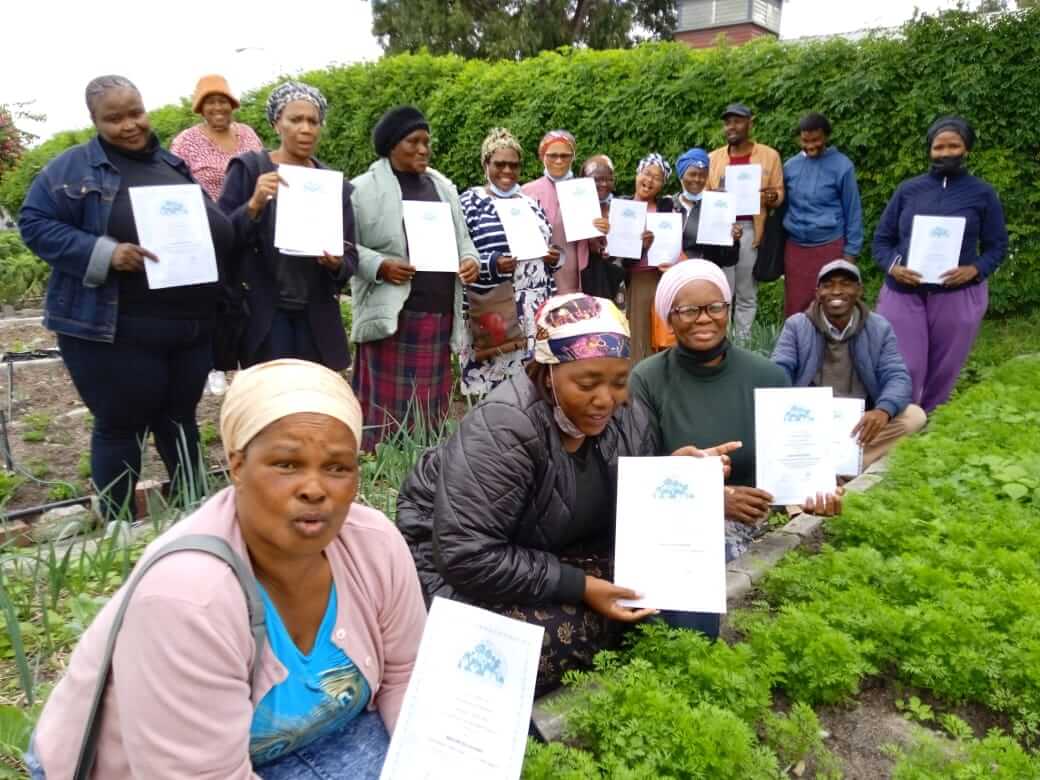 Abalimi Bezekhaya (Urban Micro Farming)
With soaring petrol prices and cost of food, supporting the organic micro farming movement through Abalimi Bezkhaya is very important at this time. Rob Small from Abalimi sent the following note :
"Dear James and Friends and Livingstone Safaris,
Just for you, a brief update from the field:
The training flood
In the last year we trained over 1200 people! As you can see from the pic (with Vatiswa, one of our top trainers, in the foreground), many are younger folk, all proudly holding their certificates. Although in this pic it does not show that up to 50% are often men – which is a good thing, since men tend to be particularly frustrated by being underemployed, since traditionally they should be breadwinners. People are streaming into the movement more than ever, partly in response to increasing financial pressures but also because many have seen and sampled produce from other locals and want to learn how to do the same. The training is very very low cost or for free, mostly just small registration fees in order to ensure commitment. And most important, nearly 20% of the new influx are Youth (under 35years old) !! So there is a burgeoning Young Farmers movement on the rise as well!!
Agri-inputs on-going drive
In the last year we also distributed over R360 000.00 worth of agri-inputs- manure, seed and seedlings to over 3000 home and community gardens. They all pay something of course, but at our low-cost prices, which are largely subsidised by donations. Thus no one is expecting hand outs. People are very proud to feel that they are paying their way!
Capital support – soil building and infrastructure
The above figure of R360 000 includes soil building support, which the gardeners can't afford on their own, that is, bulk manure to improve long term soil structure and fertility. Plus we have aided numerous gardens to repair and maintain their borehole and irrigation systems, which is also something they often don't have enough money for. But they are all saving and building up "sustainability funds" for such things as well. So, they often pay something towards these costs and in future, they should be able to manage much of the above themselves as they become more prosperous.
Market Access Support
We mentor the gardens to improve market access- everything from improving their admin, connecting them to markets, helping with logistics to get going and even helping to set up FB and Whatsapp accounts so they can communicate with both their clients and advertise themselves and their produce. This is done at present for free- they don't have to pay.
Organisation building support
Here we advise and enable the community gardens to set up bank accounts, form associations with constitutions and overcome all sorts of internal dynamics. This we also do for free.
Cost of all our services to farmers & donors
For the record (I am so proud of this fact!) it is still costing us only around R100/annum per farmer to provide all the above support and more to around 3000 micro-farmers per annum – that's a total budget of R3.5 million/annum. This amount includes many other interventions as well – like advice and support with Market Access to sell their veg, Expert advice on all manner of agricultural matters such as soil and water quality and pest control, assistance with assessment of their community project management and sustainability and where they need strengthening and much else.
We remain, as it were, a "lean, mean agri-movement development machine" J – I think that is one reason why we have been able to stay in business so long. We don't follow the "high overhead" model- our salaries are modest and everything we do, even our accounting, directly supports the farmers. Since all the information comes back to them in helpful ways so that- based on our example as a community project ourselves- they can improve their systems and set up their own independent community projects. Even our General Manager spends a great deal of time in the field mentoring, advising and supporting the farmers.
It is also our 40th year, and recently (on 23rd April) we hosted a Farmer Festival and Agri-Expo which was the first of its kind in SA, focusing as it did on micro-and small farmers, taking them very seriously, by providing them with lots of new ideas and insights. Even the Department of Agriculture had a stand there! It was a great Movement Building event. We now continue (mostly) with our normal activities until September, when there will be a flood of visitors from all over to see the gardens plus prizes for well planned and productive gardens. Thus we continue- with you – to build a new garden culture in the townships. The last 40 years are paying off handsomely. And in the next years we will see a hugely expanded and even more independent movement, capable of feeding all of Cape Town!! (Well, that's our dream, and it is very much an actual practical possibility).
It's a crazy world, but there is so very much good that is happening between every crack. Uthando is our best Friend. And through Uthando, Livingstone Safaris and other amazing people! May Uthando and Livingstone Safaris carry on forever!!!
All the very best and many thanks for being on the "food security and income generation through gardening" train. It is the most important initiative in the world I believe. After all, no-one can do anything at all without food!!
Rob Small"