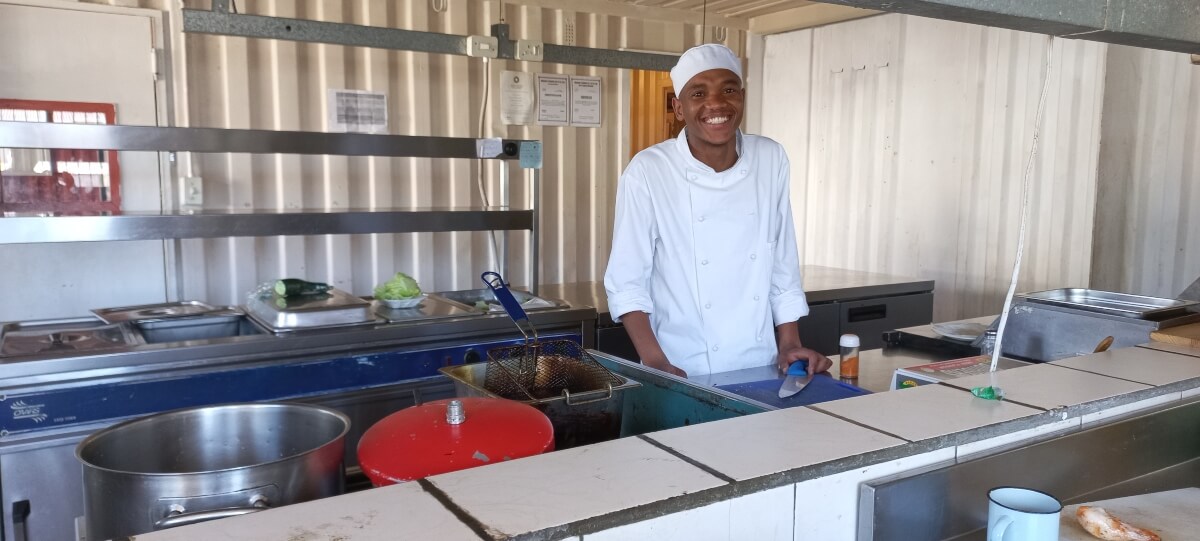 Eziko Cooking School – Kwanga Menera Sponsored by Uthando Clients
On the 30th of August, Uthando visited Eziko with clients David and Lindsay, a honeymoon couple from New York City, USA. On this visit they were impressed and inspired by the resilience, passion and dedication of the student chefs, amongst them was Kwanga. On their return to the US, the couple decided to sponsor Kwanga and pay for all his educational expenses, thus enabling Kwanga to continue his training at Eziko
We decided to ask Kwanga for his story………..
A thunderous sound of Isabhokhwe (whip) hitting the ground, calls and whistles by the Shepherd urging the cattle to the grazing land…. Tyip, tyip tyip tyip (chicken calling sound) his grandmother throwing the corn breakfast for chickens. Thula-thu thula mntwana, thula sana (hush little baby, don't say a word), thula uMama uzokubuya ekuseni (mum's buy you a mockingbird) while his mother prepares maize mealie porridge.
In the valley's, hills and rivers of Mqakane village in the Tsolo district of Eastern Cape, Kwanga Menera was born. First born of three children, growing up under the care of his grandmother with his siblings and 10 cousins, Kwanga's childhood was not easy but it was filled with laughter, joy, warmth and love. The crackling wooden stove on his grandmother kitchen as she cooked everyday was the seed that started the love and the passion for cooking in Kwanga, he would go to the garden to pick up the day's veggies, wash and chop them…grandmother would call Kwanga zamisa imbiza (stir the pot) and the aroma of herbs and spices from the chicken stew will fill the house.
Kwanga attended Lower Primary School with his 5 other cousins of the same age group and had to walk for more than two hour everyday to and from school, which proved extremely challenging for them. With grandmother's old pension grant/fund as the only source of income they couldn't afford to pay for scholar transport, this contributed to Kwanga's poor school attendance.
Kwanga moved to Cape Town to be with his parents in Langa Township and to further his Primary School education, he attended Moshesh Primary and progressed to Langa High School where he completed grade 10. After grade 10, Kwanga decided to go to College so he can learn a skill that will in turn help him gain employment in order to help out at home. With his father unemployed and only his mother working as a domestic worker, life at home was very challenging for Kwanga and his family of 5, living in a small one-roomed Shack at the Joe Slovo informal settlements.
His desire to learn a skill and help his family is what led Kwanga to Eziko Cooking And Catering School, not knowing anything about the catering industry, Kwanga was determined to learn and make something of his life. This however proved more difficult than thought due to a lack of financial support and affordability, as a result Kwanga's dream of becoming a chef and one day owning his own restaurant was in jeopardy as he was forced to dropout.
After the tour David and Lindsay wrote: "We are so grateful for the incredibly amazing and moving day we just experienced. We feel that we were able to see South Africa through a new lens and look forward to learning more and helping these organizations grow".