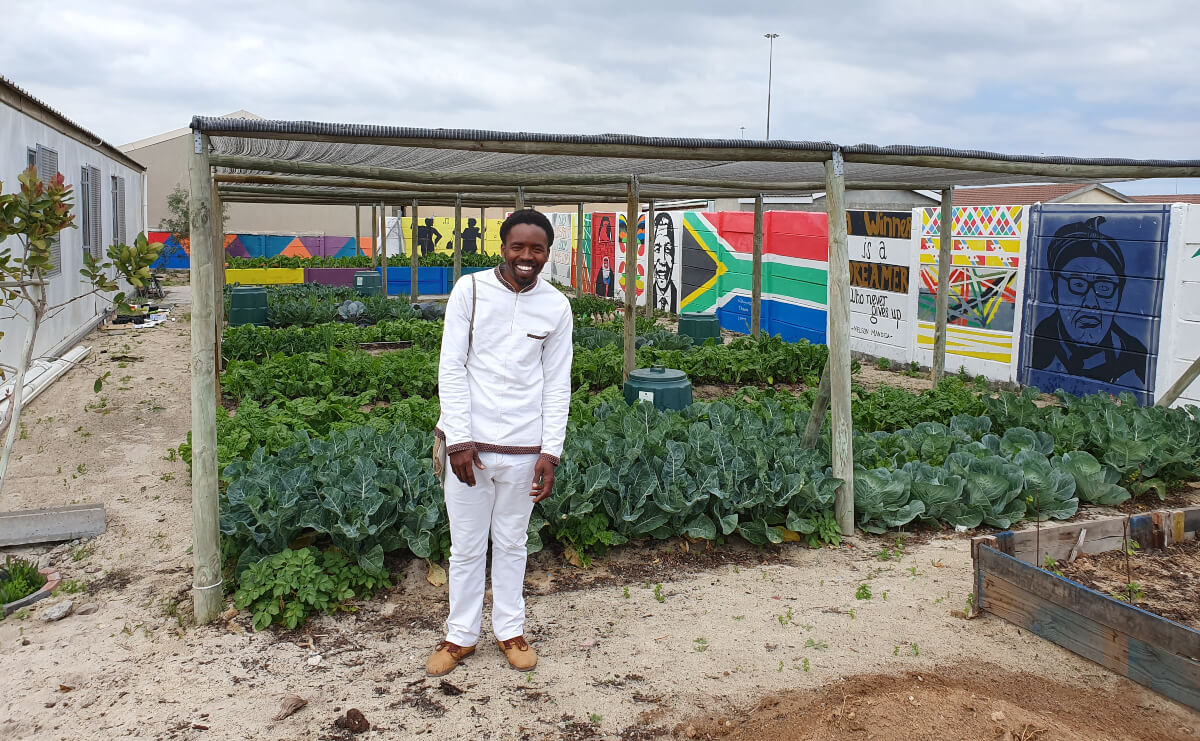 Ludwe Qamata "I am a Ghetto Gardener, carry the spade and walk with us"…..
During 2022 we plan on reflecting the many incredible stories of resilience, determination, passion and triumph over adversity that characterizes so many of the project activists.
Ludwe Qamata is the gardener who is based at the Sinovuyo Seniors Centre in Khayelitsha. He is part of the "Ghetto Gardener" movement and Uthando is very proud to work with him and support his efforts. He is a remarkable young man; gentle, soft spoken and passionate. Like so many young men of colour in SA, his life has not and is not an easy one, but despite the limitations he shines like a bright light of hope and inspiration, especially to other young men who are looking for role models.
This is Ludwe's story of triumph over adversity
Ludwe Qamata was born on 8 October 1988 in Khayelitsha, a 3rd born of 5 children from a single mother. Due to financial challenges experienced by his mother, Ludwe and his siblings went to live with their grandmother in Lady Frere in the Eastern Cape. Life in the Eastern Cape was not easy, they grew up struggling with very little money. In the village, people had farm stalls where they planted mostly maize (corn), beans, pumpkin, potatoes and cabbages. These vegetables were their staple food at home. When it was harvest time, Ludwe would fill-up iBhekile (a tin can) with the maize and go exchange it at the local shop for a tin of salt. The salt would then then be distributed in all the homes close to them, this was done with the purpose of sharing between families.
Ludwe came back to Cape Town when his was 10 years old, to live with his mother and stepfather. His stepfather was verbally abusive towards his mother and physically abusive to them, this led to them separating. Ludwe always thought that the man he grew up under was his father only to discover all along it was his stepfather, this came as a big shock to him and ignited in him a curiosity to know to who is his real father was. At the time he was around 17 or 18 years, by focusing on finding his father he failed grade 11, this seriously affected him and as a result he started drinking alcohol, smoking drugs and being out at night doing mischievous things. The pain led him to being violent, he started getting into fights and he got stabbed multiple times in his chest and back during a fight that almost took his life, he had to be resuscitated. This was the beginning of his downward spiral to a life of anger and frustration which led to more and more fighting. He was involved in a fight with 4 other man where he stabbed 1 of them to death, he got arrested and was sent to the notorious Pollsmoor Maximum prison at age 20 and was sentenced to 25 years behind bars. Ludwe spent 3 years in prison and was released on Parole and leaved with his brother at the hostels in Nyanga Township.
During his parole, Ludwe would go to the Nyanga Police Station to sign and do his community service duties of cleaning the police station in the morning and during the day queue at the SHAWCO hall for soup and bread. While at the queue he noticed a garden at the hall that was in a very bad condition and asked for permission to work on it. He started planting and the people were impressed by what they saw and started asking for his help with their own gardens, that's when his passion for household gardens began. With his friend Xolisa Bangani, Ludwe's journey to transformation started, volunteering at the Abalimi Bezekhaya garden centre in Nyanga he learnt about organic gardening concepts and techniques. He would go door-to-door helping and advising people with their household gardens and as a result he started an organization called Imifuno eFresh eKasi (Fresh Produce in the Hood). In 2013, he met up again with his friend Xolisa and helped start Ikhaya Kulture Garden at Isikhokhelo Primary School in Site C, interacting with the children this truly encouraged him to share his knowledge and skills with the community and was personally inspired to help household garden movement and as result he focused on this movement. All this was disrupted by the chaos of the neighbourhood, guys his age were involved in gangsterism as means of protection, and this led to Ludwe joining the gang and started selling drugs.
Uthando's support to Ludwe came at a very critical time, when he was in a brink of giving up and was in a very dark space, involved in criminal activities. The opportunity to work with the seniors at Sinovuyo Club was life changing, started the "Ghetto Gardeners" project and allowed him to achieve his dreams of being involved with household gardens. Uthando has provided Ludwe with all the necessary support from garden tools, seedlings, irrigation system and a weekly stipend which have been extremely helpful and motivational to him, and the love of Uthando, the seniors and the community is what gives him strength and encouragement.