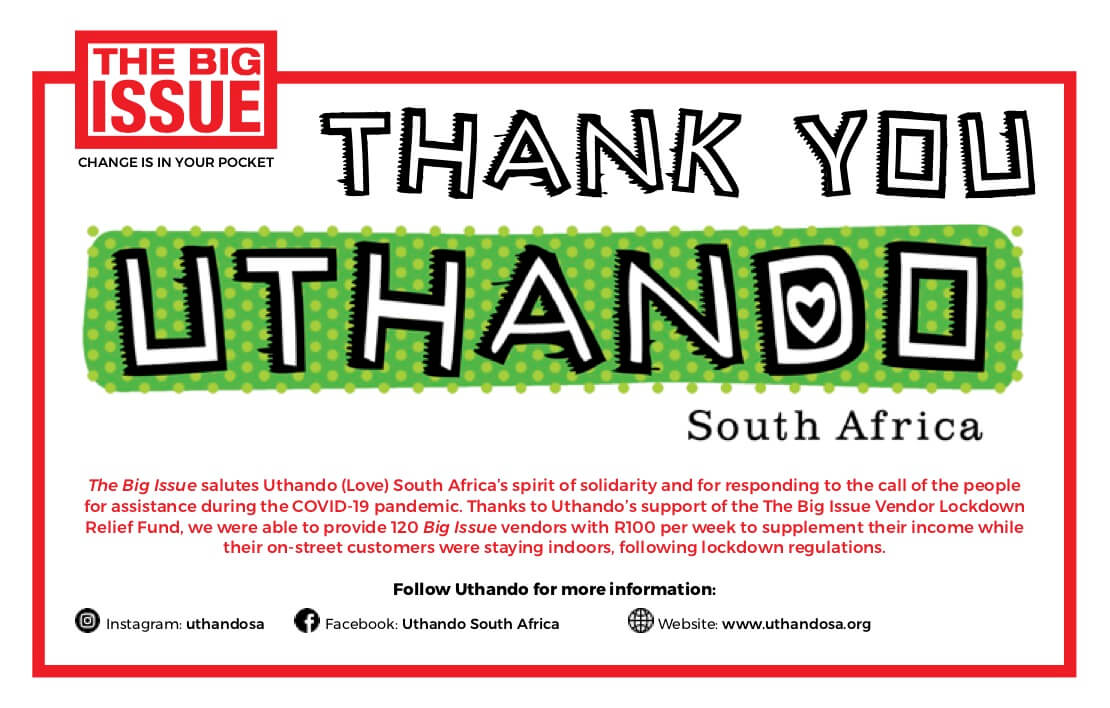 The Big Issue Recognition for Uthando Support During Covid 19 Crisis
Uthando is extremely proud to be included on page 2 of the June edition of The Big Issue magazine with a bold note of gratitude from the magazine to Uthando for the assistance Uthando is providing during the COVID19 crisis.
The Big Issue Magazine is a vibrant and energetic organisation, started in 1997 to support homeless, marginalised and unemployed people in Cape Town to earn a living.
Unemployment is a huge challenge in South Africa, and it is becoming increasingly evident that the formal economy is not going to provide jobs in the way that it once might have. For this reason, it is critical that as a country we promote, encourage and support entrepreneurship and the growth of micro-entrepreneurs to generate their own income – using their skills, personalities, commitment and personal drive to sell products and services to build a life for themselves and their families.
This is exactly what The Big Issue does! Primarily, we produce a monthly magazine which individuals purchase from our offices to sell at traffic lights. This way of earning an income is not easy. Traffic light sales are grueling – on your feet all day; in all kinds of hot, cold, wet and windy weather; relying on the interest or kindness of strangers, and the possibility of befriending regular customers. It is hard work!
The heart of The Big Issue operation is Vendor Training Program and our Social Support Program. Here vendors and their families have access to guidance counselling, and to social support services. We also offer skills development and training to equip vendors to improve their sales techniques, their personal and product presentation to improve sales, their cash-flow management skills, and other life skills in support of being micro-entrepreneurs. We also support vendors to move on into the formal job market, should they choose, through life- and job-skills training, and putting them in contact with opportunities as they arise.
Our Distribution Department ensures that vendors are able to access as much stock as they can via four distribution points across the peninsula at Woodstock, Wynberg, Bellville and Somerset West. Our mobile distribution manager also resupplies vendors on the street. Vendors buy each copy for R12.50 and then sell the magazine for a R25 – which means that they make a 100% profit on their investment of R12.50.
At The Big Issue, our philosophy is firmly about giving vendors "a hand up, rather than a hand out". By generating their own income homeless, unemployed and socially marginalised people are taking their lives and their futures into their own hands. The Big Issue has provided employment and social support for thousands of people, who have earned over R23-million over 21 years.
Income generated from magazine sales and advertising goes directly into producing and publishing the magazine. The Big Issue therefore relies on funding from national and international foundations, and from corporates and individuals, to support our work so that we are able to cover not only the cost of publication and printing, but also to cover our operating costs so that we can continue to providing skills training, social support, and counselling for the marginalised, unemployed and destitute.