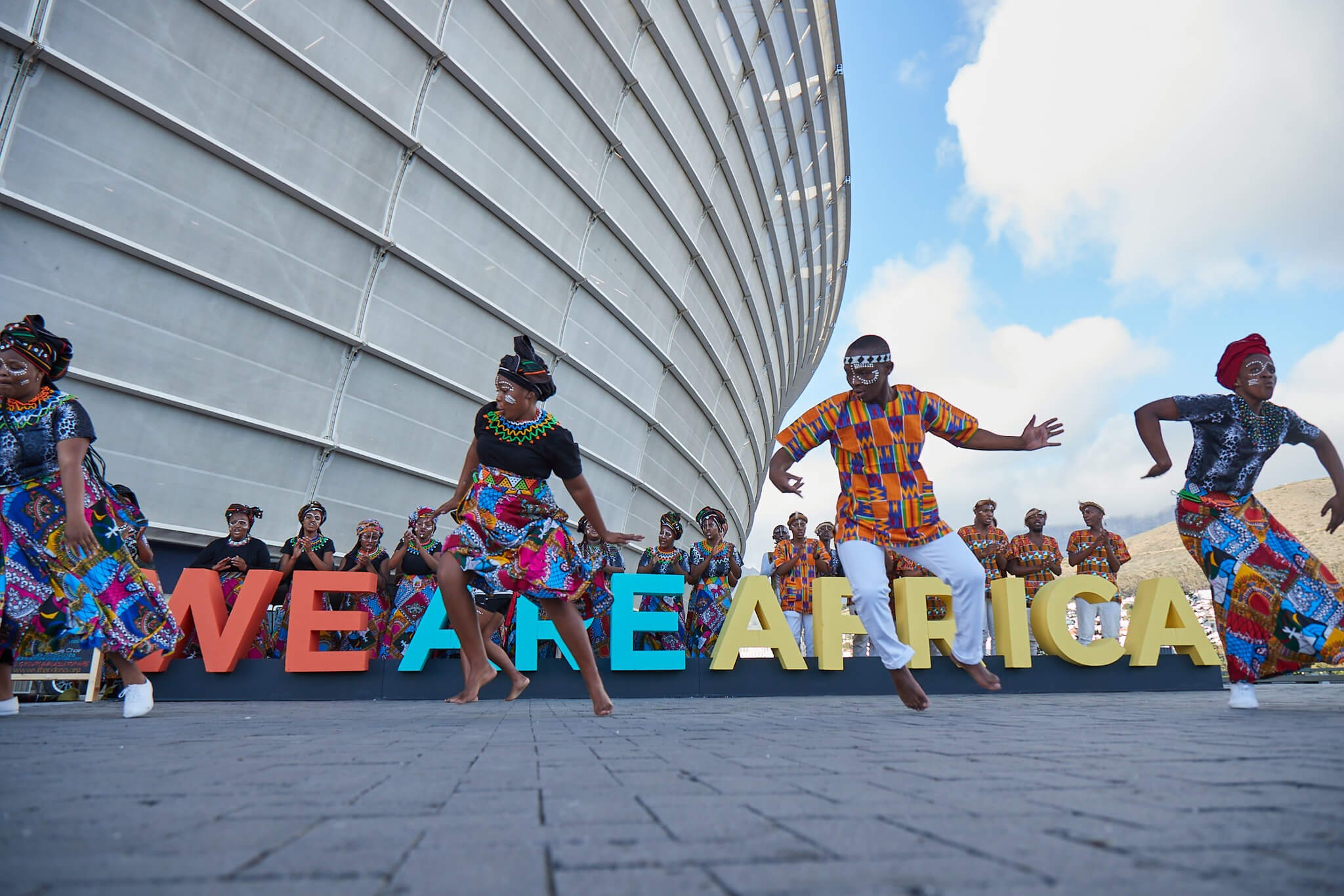 We Are Africa 2023
Thank You To "we Are Africa" And The Tribe For The Kind And Generous Support This Year
"We are immensely proud of the collective impact we have made through this year's event. The success of We Are Africa is not just measured by business connections made but by the positive change we create together. Uthando South Africa is doing incredible work, and we are honoured to support their efforts."
Ryan Wallace, the Co-founder & Event Director of the We Are Africa Travel Show, expressed his gratitude to all the participants, exhibitors, and attendees for their generous contributions.
The 2023 WE ARE AFRICA donation amounted to R441 866.00. Incredible. This money has been allocated to a range of community development projects located in communities across the metro of Cape Town, and which are addressing critical challenges in South Africa.
This press release is a little long, but we hope that you find the time to peruse it and see how we allocated your money
CHRISTEL HOUSE SCHOOL – "A WORLD WHERE POVERTY DOES NOT LIMIT POTENTIAL."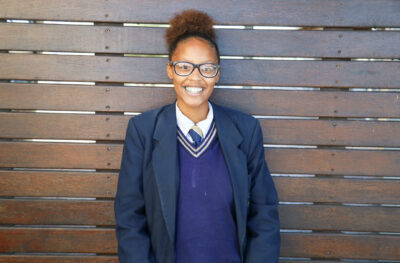 Christaylior Booysen's tuition and attendance at Christel House School sponsored for the entire year.
Christel House is one of 9 unique Non-Profit schools in the world. The school prepares almost 1000 learners to achieve upward economic mobility, demonstrate good citizenship, and become empowered to identify and realize their goals, dreams and human potential.
Christaylior is interested in pursuing a career in tourism and her message to her younger self is "ignore the noise, focus on sharpening your skills and make a difference in any small way."
ABALIMI BEZEKHAYA "FARMERS OF HOME"
With 41 years of dedication and experience in the urban micro farming movement, Abalimi provides communities across Cape Town with the resources to establish and maintain their own organic vegetable gardens. Abalimi is underscored by a philosophy of respect for the earth, people and planet.
LADLES OF LOVE "NOURISHING THE NATION"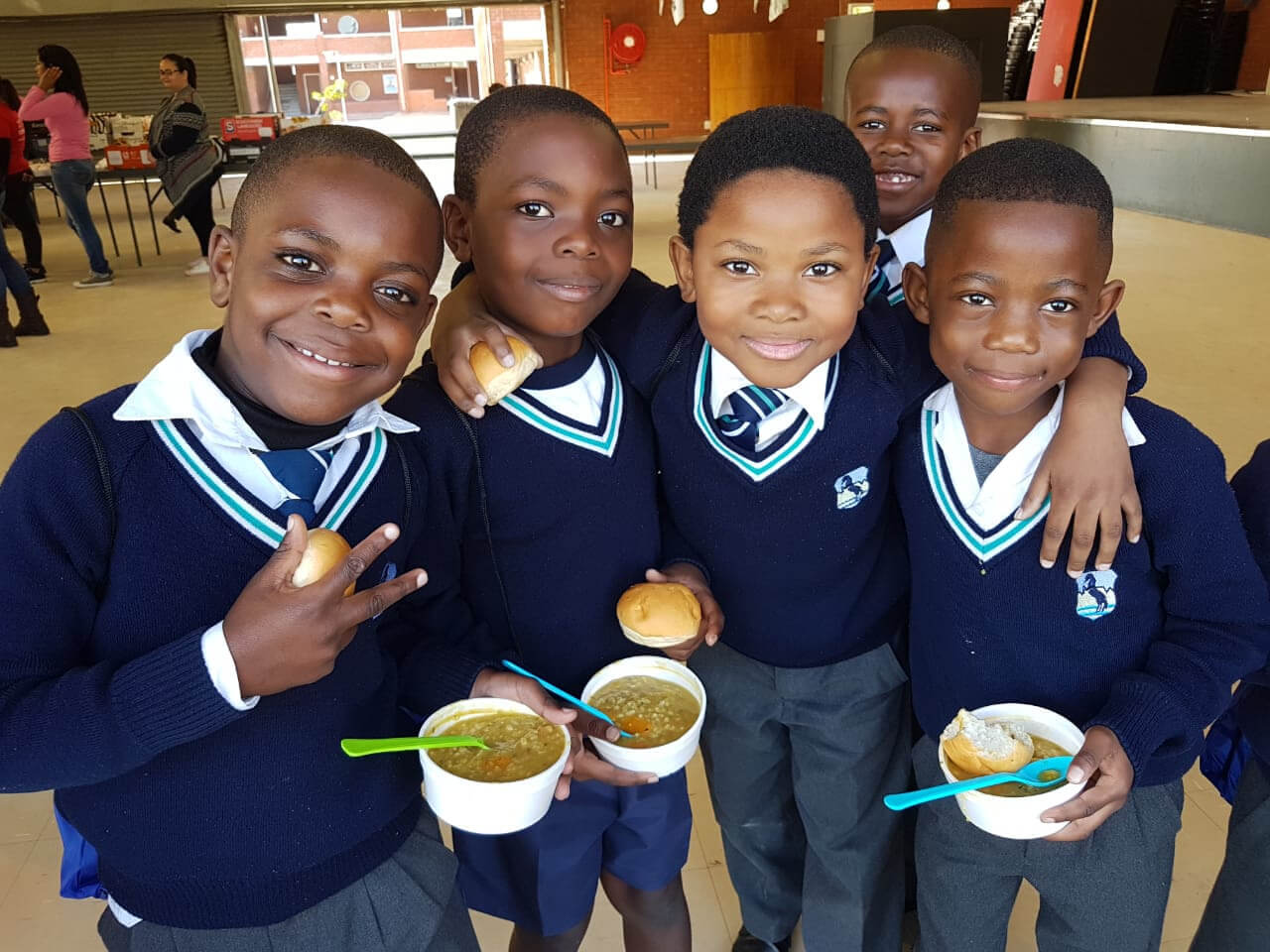 With a myriad of severe challenges facing many communities in South Africa, hunger has increased dramatically since the Covid-19 crisis. Ladles of Love has served an enormously impactful 36 million meals since the National Lockdown in March 2020. With their slogan "one small gesture can change someone's world.
Let's make it happen #HumanityAgainstHunger," they certainly are making a significant difference.
AMY FOUNDATION "TOGETHER CHANGING LIVES"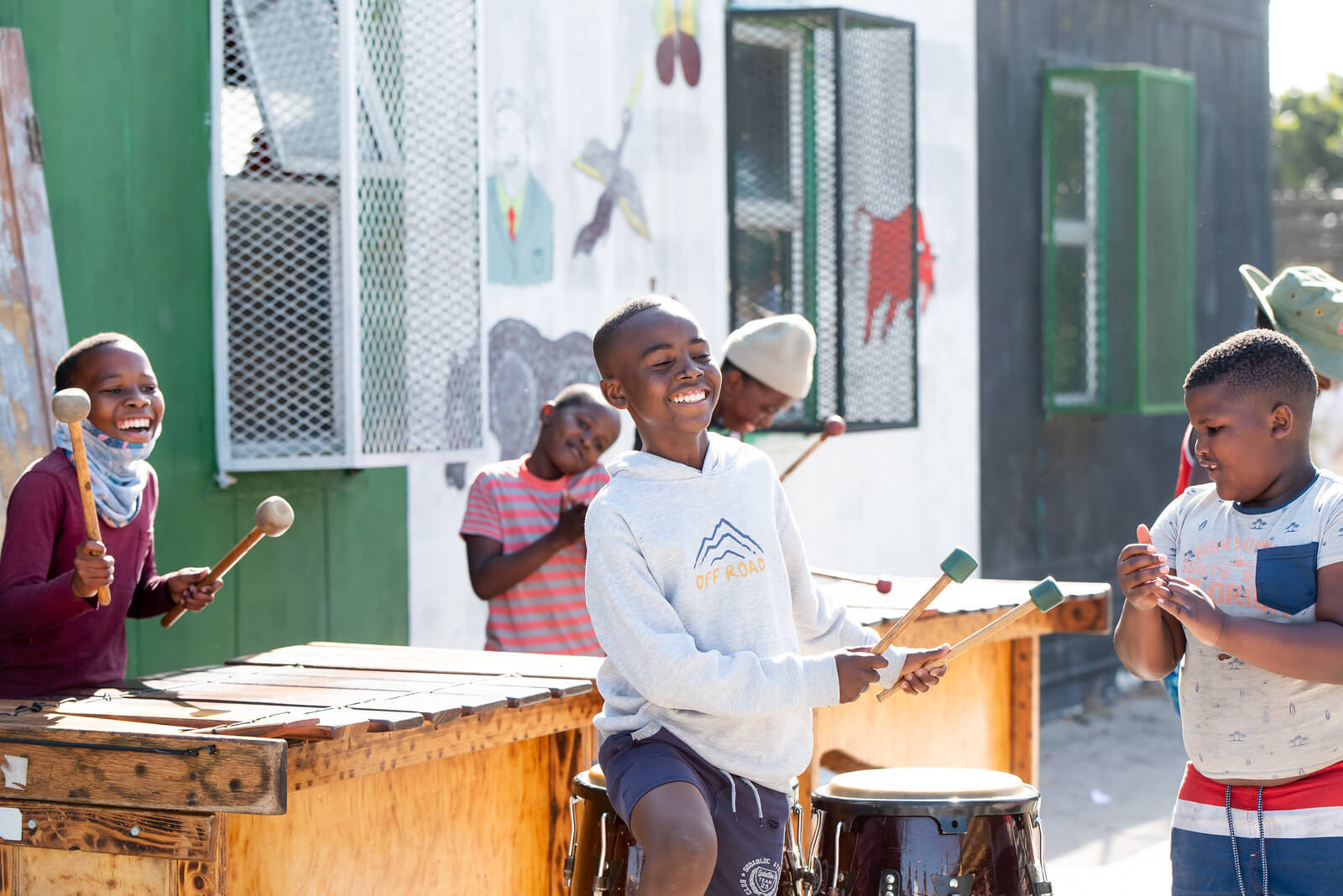 With rising youth unemployment and hopelessness in South Africa, organisations like the Amy Foundation are providing vital support and skills to young people, so that they may go on to become motivated and inspiring role models to other young people during these challenging times.
MASI CREATIVE HUB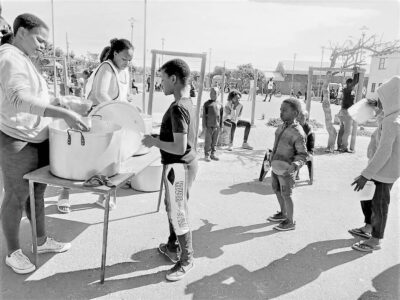 Many people at We Are Africa would have met or listened to Mama Yandiswa Mazwana "Mama Yandi" over the last two years. She is an enthralling storyteller, simply because she has such an incredible story to tell.
Masi Creative is doing many different things, but We Are Africa is particularly supporting the feeding scheme which is currently providing 1100 children with daily meals spread across 7 feeding schemes in the township of Masiphumelele.
PHILISA ABAFAZI BETHU "HEAL OUR WOMEN" FAMILY CENTRE
This truly remarkable centre offers a very broad range of support and services, including an emergency safe house for women and the LGBTQIA+ community. Thanks to We Are Africa, an Uthando cement table tennis has been installed at the Safe House. The table will be painted by renowned Cape Town artist Ras Silas Motse and will reflect the theme of "Love is Love" with messaging around Gender Based Violence and addressing hate speech. Watch this space for the painted table.
EYES2EYES FOUNDATION "FUNDING THE MIRACLE OF SIGHT RESTORATION IN SOUTH AFRICA
The founder of Eyes2Eyes, Amanda Seccombe, is an outstanding example of turning a personal tragedy into triumph, and in turn helping others.Read all about her story on their website. We Are Africa funded the gift of sight to Likho Mtotway. Read his story below.
"This is an unbelievable story of hardship, perseverance and hope. The Eyes2Eyes Foundation is overwhelmed with gratitude for the support received from uThando and We Are Africa in helping us restore Likho's sight!
"Likho lives in rural Eastern Cape, with his grandmother. He started losing his sight five years ago, due to keratoconus. This is an eye disease that has caused his corneas to progressively bulge and thin, resulting in severe vision loss. His eyesight cannot be remedied with ordinary glasses or contact lenses. Living with progressive sight loss has presented this young man with extraordinary challenges
Not only has finishing school been immensely challenging, but Likho's mom had to make the heartbreaking decision to send him to live with his grandmother, far from Cape Town. She simply could not give him the day-to-day assistance he required as she struggled to survive economically and support her young family in Crossroads.
Whilst Likho's friends have done their best to help him with his homework, he has really struggled to keep up with his grades. Aged 21, he has never given up and remains determined to finish Grade 12. He is terribly excited that soon he will also be able to re-join his friends on the soccer pitch! Not being able to engage with a sport he loves, has been another big obstacle during a trying time.
We are over the moon that Likho will start his journey to sight restoration in June and simply could not have done this without your generosity and kindness.
With much love from Amanda and all at Eyes2Eyes
GOAL50 EDU HUB EARLY CHILDHOOD DEVELOPMENT CENTRE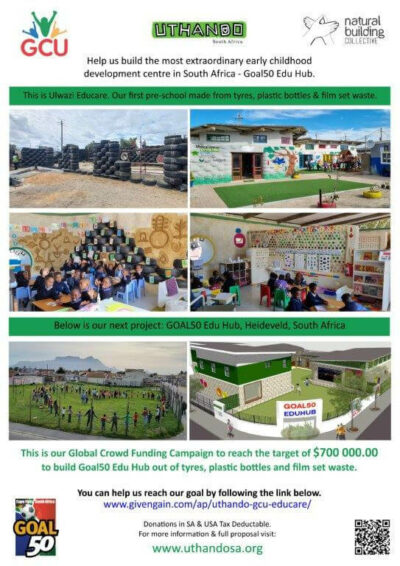 A donation from We Are Africa is now in savings for the next Early Childhood Development Centre to be constructed from tyres, plastic bottles filled with rubbish and film set waste bricks. Building plans for this unique and historic preschool are currently with the City of Cape Town and fundraising is underway.
This pre-school will be highly visible from the N2 Highway as people come into Cape Town from the airport, and it will address the huge challenges of education, early childhood development, recycling, litter, climate change, combatting gangsterism and more.
CHOIRS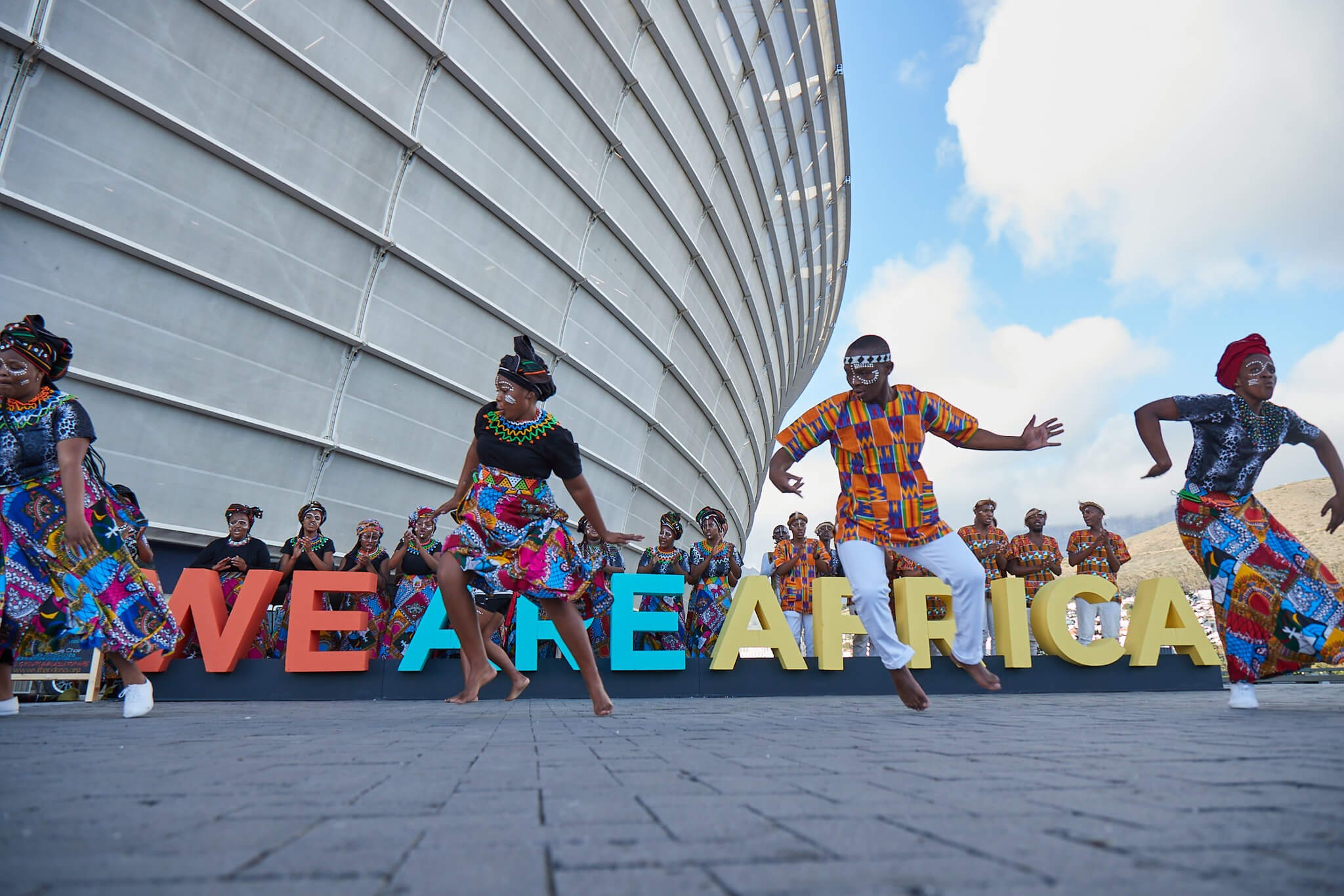 Thank you We Are Africa for supporting and providing a platform for the various choirs which welcomed attendees so warmly at the show each day. These choirs are available for hire at any kind of performance, i.e., welcome at hotel, airport, conferences, weddings, tour series. They are thirsty to use their talent of singing and infect visitors with the energy and spirit of Africa. Please contact them directly to request rate sheets.
Isibane Se Afrika "The Light of Africa" – bookingisibane@gmail.com
Major Voices Male Choir – majorvoiceskings@gmail.com
Khayelitsha Youth Choir – isiphiwoart18@gmail.com
TREE-ATHLON AT CHRISTEL HOUSE SCHOOL
Thank you to We Are Africa and AndBeyond, 300 hundred large indigenous trees have been planted at Christel House School, enhancing their school ground and contributing to the environment. A local newspaper covered the story and the headline really says it all: "Tourism Gives Back."
One of Maya Angelou's more famous quotes is:
"Try to be a rainbow in someone's cloud."
Thank you We Are Africa and the Tribe, with your 2023 donation, you are the rainbow in many a South African's cloud.
ZAMA DANCE SCHOOL