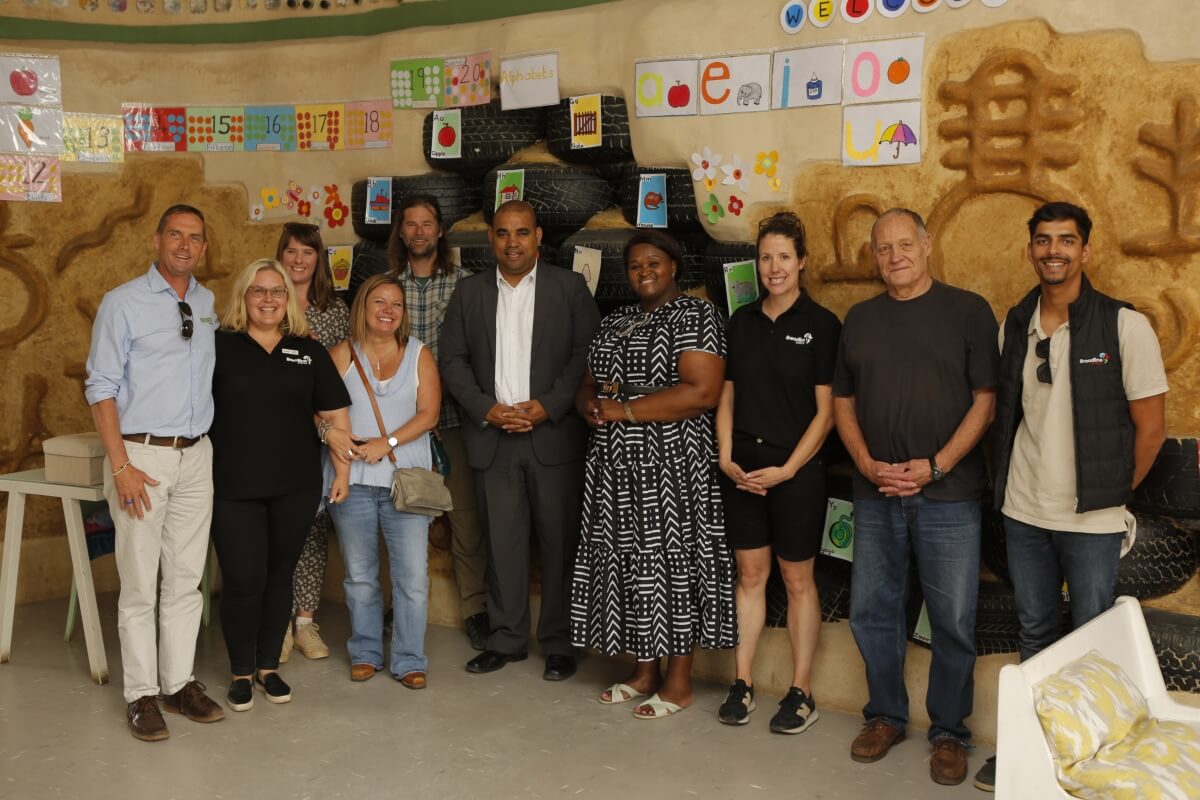 GOAL50 EDU HUB EARLY CHILDHOOD DEVELOPMENT CENTRE (ECD)
A few good reasons to support our fundraising campaign for the construction of Goal50 Edu Hub:
The school will be historic for South Africa and globally.
Massive media attention will bring awareness to the important issues of early childhood development, education and nurturing children in SA.
The high visibility of the school from the N2 highway meaning every person driving past will have a visual inspiration of this massive building created out of tyres and rubbish, igniting conversations around waste, consumption, and sustainability.
Collaboration with school children across Cape Town who are creating the eco-bricks (plastic bottles filled with rubbish) for the building, creating excitement for something new and environmentally meaningful.
Similar to our pioneer project using this model, Ulwazi Educare, this school will inspire hope and optimism at a time when so many people are feeling despondent about the future.
The school will ignite a building revolution, as people learn these buildings are superior quality, cost effective and have significant environmental and social impact.
How you can help
We have R1,5 million in the bank! We are in need of an additional R2.5 million to begin construction of 6000 tyre walls in March 2023. As a community we are confident, once this initial phase begins, massive international media attention will shine a light on the building, and the crowdfunding campaign will kick in, making it easy to raise the additional R8 million to complete the building over a one-year period. Click here to donate.
On 23 November the Deputy Mayor of Cape Town, Alderman Eddie Andrews visited Ulwazi Educare and the site of Goal50 Edu Hub.
The Deputy Mayor posted the following on social media after the visit :
"Feature| Green building technology
The Ulwazi Educare Centre in Delft is built from 1700 tyres, plastic bottles filled with rubbish (around 6000 eco-bricks), film set waste blocks and recycled materials. This innovative approach to building is welcomed in the City of Cape Town
Together with Uthando South Africa, GCU, Natural Building Collective, Breadline Africa and Goal50, we launched a fundraising campaign to build the GOAL50 Edu Hub in Heideveld.
WHY?
To highlight the importance of early childhood development & education in South Africa, & the significance of quality education in quality sustainable buildings.
To raise awareness on the durability, strength & quality of using alternative, sustainable building methods & materials, as well as addressing the challenges of climate change & active recycling.
#climatechange #environment #cityofhope #greenbuilding #EcoBrick #tyres #recycle"
Highly respected Professor and ECD Thought Leader (and founder of the Centre for Early Childhood Development), Eric Atmore also visited Ulwazi Educare and Goal50 Edu Hub with the Deputy Mayor.
Prof Atmore described Ulwazi Educare as being in the top 1% of the best and more creative ECDs that he had seen in his entire career.
"I have visited and worked with many hundreds of ECD centres. Ulwzai for me is right up there at the top. It is brilliantly designed, colourful, child-friendly and spacious. It is ideal for young children who can only thrive in the Ulwazi environment. While walking around it is clear that the teachers are committed and active. The children were all busy with their work. Ms Patiswa Bangani shines as the principal as she moves around the centre. Ulwazi is an early childhood development centre that offers young children the best of opportunities and is and makes one proud to be African." – Prof Eric Atmore
After visiting Ulwazi Educare the delegation made its way to the site of Goal50 Edu Hub where the group was joined by Mayoral Committee Member for Economic Growth Alderman James Vos. Together with partners Natural Building Collective, Breadline Africa and Great Commission United, a ribbon was cut to officially kick off fundraising for the school.
"Meeting with the Goal50 team one gets an overwhelming sense of community spirit. Under the leadership of Mr Mario van Niekerk, residents want to construct a facility that meets the needs of young children, thereby giving them a head start in their development. I have no doubt that with the support and guidance of Uthando, Goal 50 will thrive and make a substantial impact on the community." – Prof Eric Atmore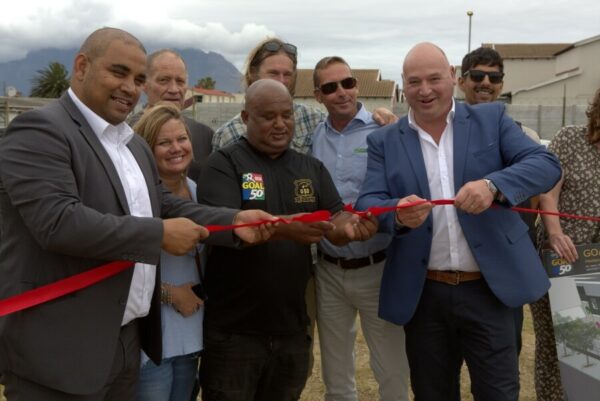 On the 9th of November Uthando hosted the "Big Ideas" group of 60 boys and 5 teachers from Bishops Diocesan College. Bishops is one of the most prestigious private schools in South Africa and we hope that the boys were inspired by the "Massive Idea" of starting a real building revolution in South Africa by supporting the Goal50 Edu Hub pre-school to be built from tyres, plastic bottle and rubbish.